All Of Our Employees
Have TWIC Cards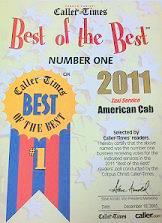 American Cab Company

Corpus Christi, Texas

(361) 289-9500


We Service The Corpus Christi Area!

We are the perfect choice for any occasion.

With dispatched cabs manned by experienced and professionally
trained drivers, we offer clean, well-maintained cabs and fast
24-hour service. We take pride in offering the most reliable
and efficient taxi service in the Corpus Christi Area.

We appreciate your business!



Why ride with American Cab ?




24 Hour Service
Clean, Comfortable 4
Passenger Sedans & 6
Passenger Vans
Courteous, Professional
Drivers
Airport Services
Out of Town Flat Rates
Advanced Bookings




All Major Credit Cards
Are Accepted*
Corporate and Personal
Accounts Welcomed
Honest Estimated Times of
Pickup by Real Dispatchers
No "Extra" Fees
Military and Senior
(Age 65+) Discounts**
TWIC Card Holders




* Minimum $10.00.
** Valid I.D. required for proof
of age or military status.